This post is filed under:
Site Updates
Written by on September 07, 2011 •
Comments Off
I am soooo sorry that this website looks like a mess, currently. I'm trying to get the new layout fixed as soon as possible. Please be patient and check back soon!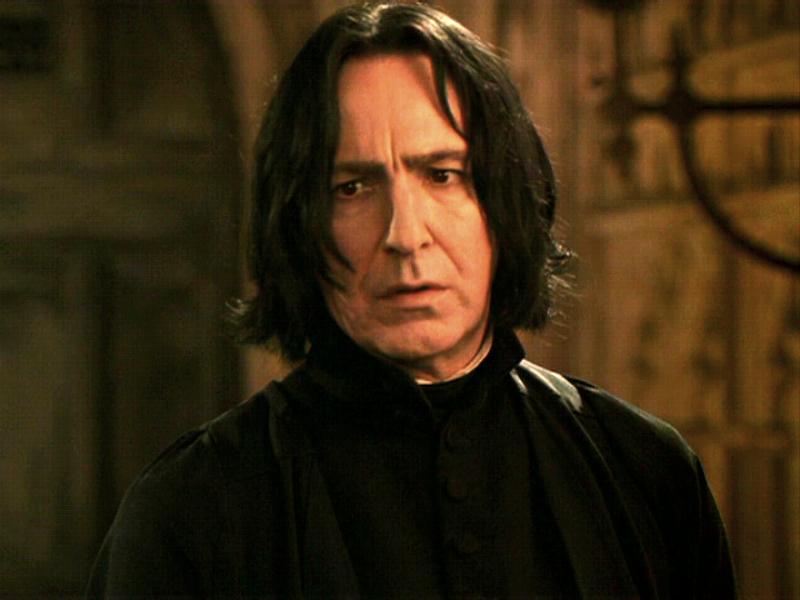 The Guardian held a poll to find out which "Harry Potter" character is the favorite among fans of the franchise. Out of a total of 70,000 votes, Severus Snape, played by Alan Rickman in the movies, emerged as the winner with 20% of the votes. Hermione Granger (Emma Watson) was close to taking the top spot, but had to settle for second place.
The main character Harry Potter (Daniel Radcliffe) took fourth place, behind Sirius Black (Gary Oldman) and in front of Ron Weasley (Rupert Grint). Lord Voldemort (Ralph Fiennes) ended up in seventeenth.
As far as author JK Rowling, her favorite character has always been Harry. But… "Now that I have finished writing the books, the character I would most like to meet for dinner is Dumbledore. We would have a lot to discuss, and I would love his advice."
My (Harry Potter Web's) Top 3 would have been Bellatrix Lestrange as the winner, followed by Ron Weasley, and Severus Snape would have taken third place.
Check out the full list below and let us know which character should have taken the top spot.
1. Severus Snape
2. Hermione Granger
3. Sirius Black
4. Harry Potter
5. Ron Weasley
6. Luna Lovegood
7. Ginny Weasley
8. Albus Dumbledore
9. Dobby
10. Draco Malfoy
11. Remus Lupin
12. Neville Longbottom
13. Fred Weasley
14. Bellatrix Lestrange
15. Minerva McGonagall
16. Rubeus Hagrid
17. Lord Voldemort
18. Nymphadora Tonks
19. Gilderoy Lockhart
20. George Weasley
21. James Potter
22. Hedwig
23. Lily Potter
24. Lucius Malfoy
25. Molly Weasley
26. Cedric Diggory
27. Alastor Moody
28. Arthur Weasley
29. Kreacher
30. Dementors
31. Dolores Umbridge
32. Moaning Myrtle
33. Sybill Trelawney
34. Rita Skeeter
35. Filius Flitwick
36. Argus Filch
37. Dudley Dursley
38. Vincent Crabbe
39. Gregory Goyle
40. Cornelius Fudge
Source: The Guardian
Band of Outsiders has released their Fall 2011 Lookbook featuring Tom Felton and Rupert Grint (aka Draco Malfoy and Ron Weasley) as photographed at The Magic Castle in Los Angeles, CA (shot up the hill, in the courtyard of Yamashiro) on August 9, 2011.
Seasonal highlights include Sperry climbing boots, a wool blanket coat, a rabbit fur peacoat and various cashmere and alpaca knits. Other BoO staple pieces such as oxfords, chinos, pyjamas and boat shoes round out the drop. Visit your local Band of Outsiders retailer to purchase.
I added 20 MQ pictures to the Image Archive. If I find high quality pictures of the photo shoot, I'll update the gallery.
Gallery Link:
Photoshoots & Portraits > 2011 > Tom Felton/Rupert Grint for Band of Outsiders
Pixar's movie "Brave" follows the story of Princess Merida voiced by Kelly Macdonald and has a cast which also includes Emma Thompson, Billy Connolly, Julie Walters(Molly Weasley), Kevin McKidd, Craig Ferguson and Robbie Coltrane. This is one that we're very excited about, especially as they're bringing out so many great images for the movie.
Synopsis: Since ancient times, stories of epic battles and mystical legends have been passed through the generations across the rugged and mysterious Highlands of Scotland. In "Brave," a new tale joins the lore when the courageous Merida (voice of Kelly Macdonald) confronts tradition, destiny and the fiercest of beasts.
Merida is a skilled archer and impetuous daughter of King Fergus (voice of Billy Connolly) and Queen Elinor (voice of Emma Thompson). Determined to carve her own path in life, Merida defies an age-old custom sacred to the uproarious lords of the land: massive Lord MacGuffin (voice of Kevin McKidd), surly Lord Macintosh (voice of Craig Ferguson) and cantankerous Lord Dingwall (voice of Robbie Coltrane). Merida's actions inadvertently unleash chaos and fury in the kingdom, and when she turns to an eccentric old Witch (voice of Julie Walters) for help, she is granted an ill-fated wish. The ensuing peril forces Merida to discover the meaning of true bravery in order to undo a beastly curse before it's too late.
Directed by Mark Andrews and Brenda Chapman, and produced by Katherine Sarafian, "Brave" is a grand adventure full of heart, memorable characters and the signature Pixar humor enjoyed by audiences of all ages. The film takes aim at theaters on June 22, 2012, and will be presented in Disney Digital 3D™ in select theaters.
A grand adventure full of heart, memorable characters and signature Pixar humor, "Brave" uncovers a new tale in the mysterious Highlands of Scotland where the impetuous Merida (voice of Kelly Macdonald) defies an age-old custom and inadvertently unleashes chaos, forcing her to discover the meaning of true bravery before it's too late.
We can expect to see "Brave" on August 17th, 2012.
This post is filed under:
Emma Watson
,
News
Written by on August 27, 2011 •
Comments Off
With the Harry Potter franchise over, Emma Watson(Hermione Granger), along with the rest of the cast, will likely be seen in and wanted for much different roles. Daniel Radcliffe can be seen in the upcoming horror drama "The Woman in Black". Rupert Grint is scheduled to star in a war film called "Comrade". The kids we knew as wizards have now grown up.
According to Perez Hilton, Emma is already being rumored for Tom Hooper's new version of "Les Miserables".
Emma is set to compete against Lucy Hale, Hayden Panettiere and Miranda Cosgrove for one of the two roles being offered. They are Eponine and Cosette. Amy Adams is also wanted for the role of Fantine.
The cast already includes Hugh Jackman as Jean Valjean. Not too long ago, we reported on the possibility of either Russell Crowe or Paul Bettany joining Jackman. This could be one big movie.
Filming is scheduled to begin in February 2012.
This post is filed under:
Emma Watson
Written by on August 27, 2011 •
Comments Off
What's the international sign for a man in love?
Joining a woman shopping.
Such was the scene in Paris on Tuesday when Emma Watson(Hermione Granger), 21, brought her beau Johnny Simmons, 24, to the City of Light for the week (where the couple also took walks and visited a museum) and he happily joined her as she indulged some retail therapy.
"They seem very in love, very cute," said an employee at the Maje boutique on rue Saintonge, where the couple spent more than 90 minutes together, kissing often as Emma modeled wares for Johnny.
"She did her own shopping – she knows what she likes," adds the employee. "She picked out outfits and he made some suggestions, picking out items which she tried on in the dressing cabin, then coming to model for him."
The Harry Potter star's haul included:
» One T-shirt emblazoned with a neon pink-toothed tiger
» One neon pink belt (Simmons's pick, to go with the t-shirt)
» Three scarves: one gray, one beige and one black-and-white checkered
» One black wool knee-length coat with leather sleeves
» One gray wool sweater with white collar
» Black leather booties
» One gray metallic wool sweater
» One checkered sweater
» Black sandals
» One pair skinny jeans
» Assorted dresses
Total cost: 2200 Euros, or approximately $3,200.
Helpful boyfriend who tags along: Priceless.
Source: People.com
I just added 37 photoshoots showing actress Helena Bonham Carter to the Image Archive. 29 of them were taken in 2011 by 4 different photographers and 8 of them weren taken in 2010 by Gustavo Papaleo. I'm going to update the Gallery with more pictures of HBC and even the entire cast shortly.
Gallery Links:
The Movie Cast > Helena Bonham Carter > Photoshoots & Portraits > 2011
The Movie Cast > Helena Bonham Carter > Photoshoots & Portraits > 2010